The home to Romeo and Juliet, this picturesque city even sounds romantic long before you visit – not without reason too! Some of the very best things to do in Verona inspired Shakespeare so much he decided to set his tale of Romeo in this very city.
Verona is great for exploring as all the sites here can generally be found on foot – the only place you will want to see that needs other modes of transport to get to is Lake Garda and that trip will be oh so worth it.
With a mixture of art, romance, culture and stunning scenery around, Verona is one city in Italy you absolutely have to visit!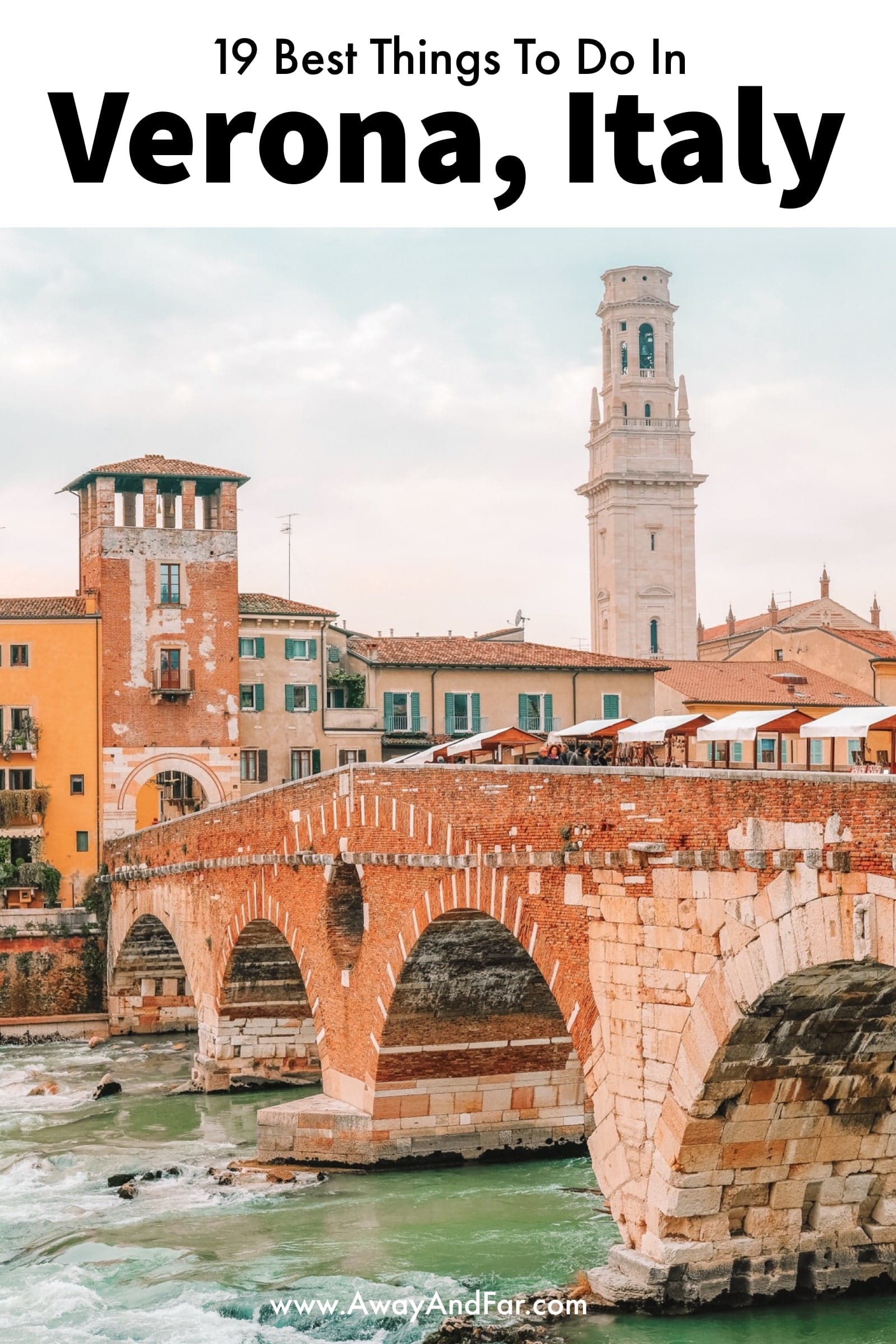 Here are the 19 best things to do in Verona.
1.) See a performance at The Arena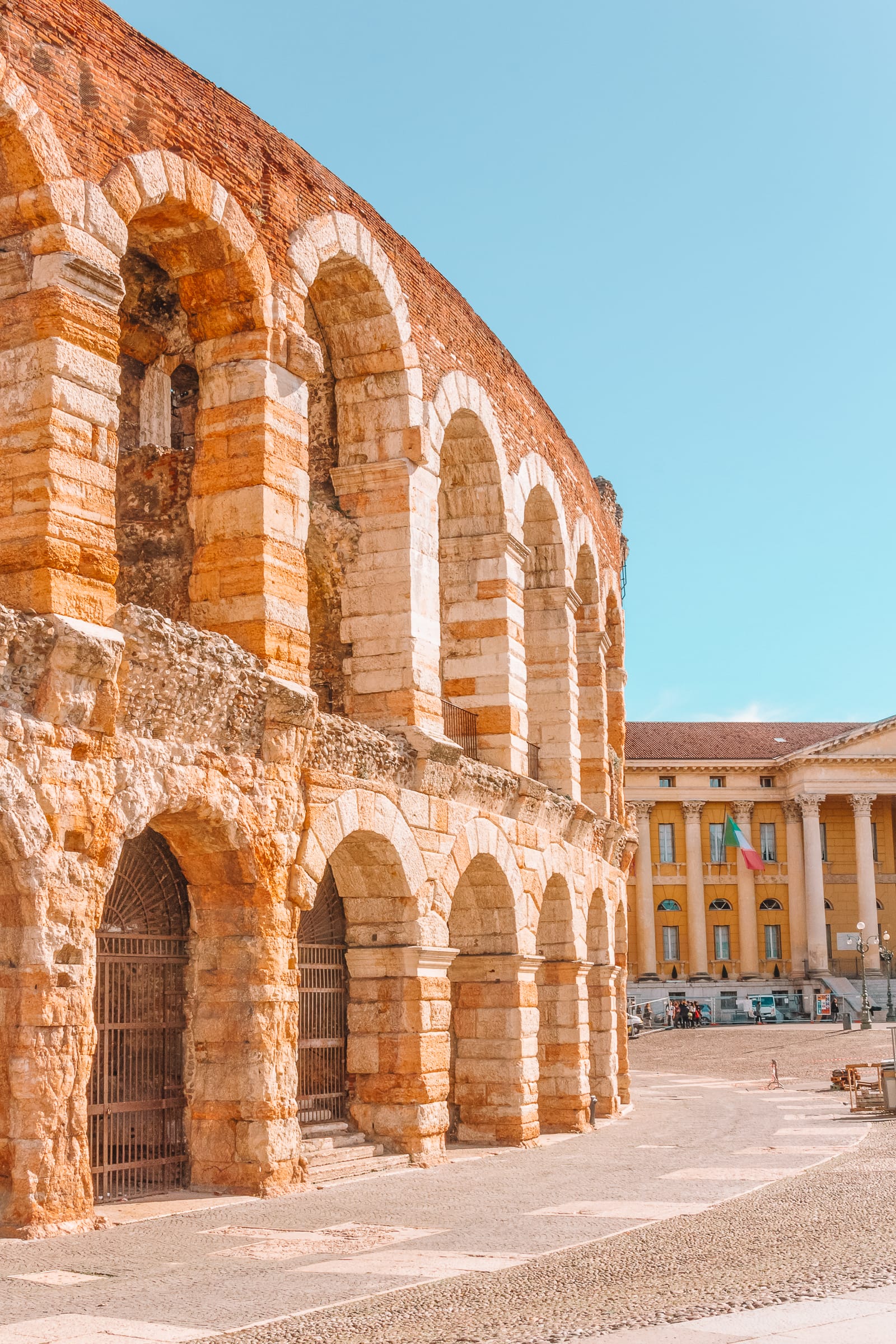 Verona Arena is Verona's version of the Colosseum and while it's not as famous as the one in Rome, it's actually better preserved and just as incredible to see.
One of the best things to do in Verona is watching an opera, musical or concert in the beautiful building if you can.
2.) Take a trip to Lake Garda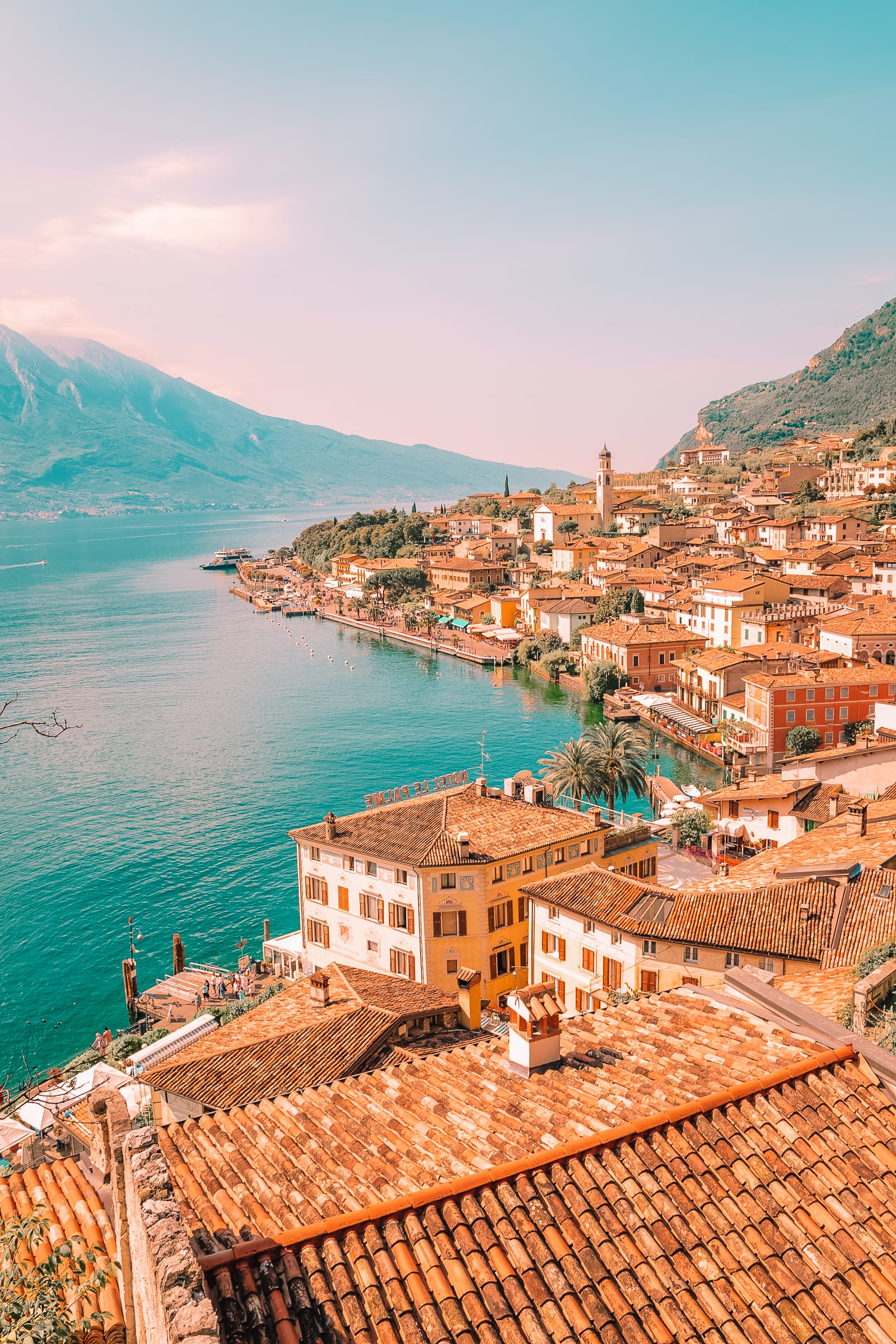 Being on 30 minutes away by train, it would be a shame if you didn't take a day trip (at least) to the beautiful Lake Garda.
One of the largest and most attractive lakes in Italy, here you can take a boat trip on the lake or visit one of the pretty towns such as Bardolino and Peschiera del Garda which is one of the most picturesque towns I have ever visited.
3.) Piazza dei Signori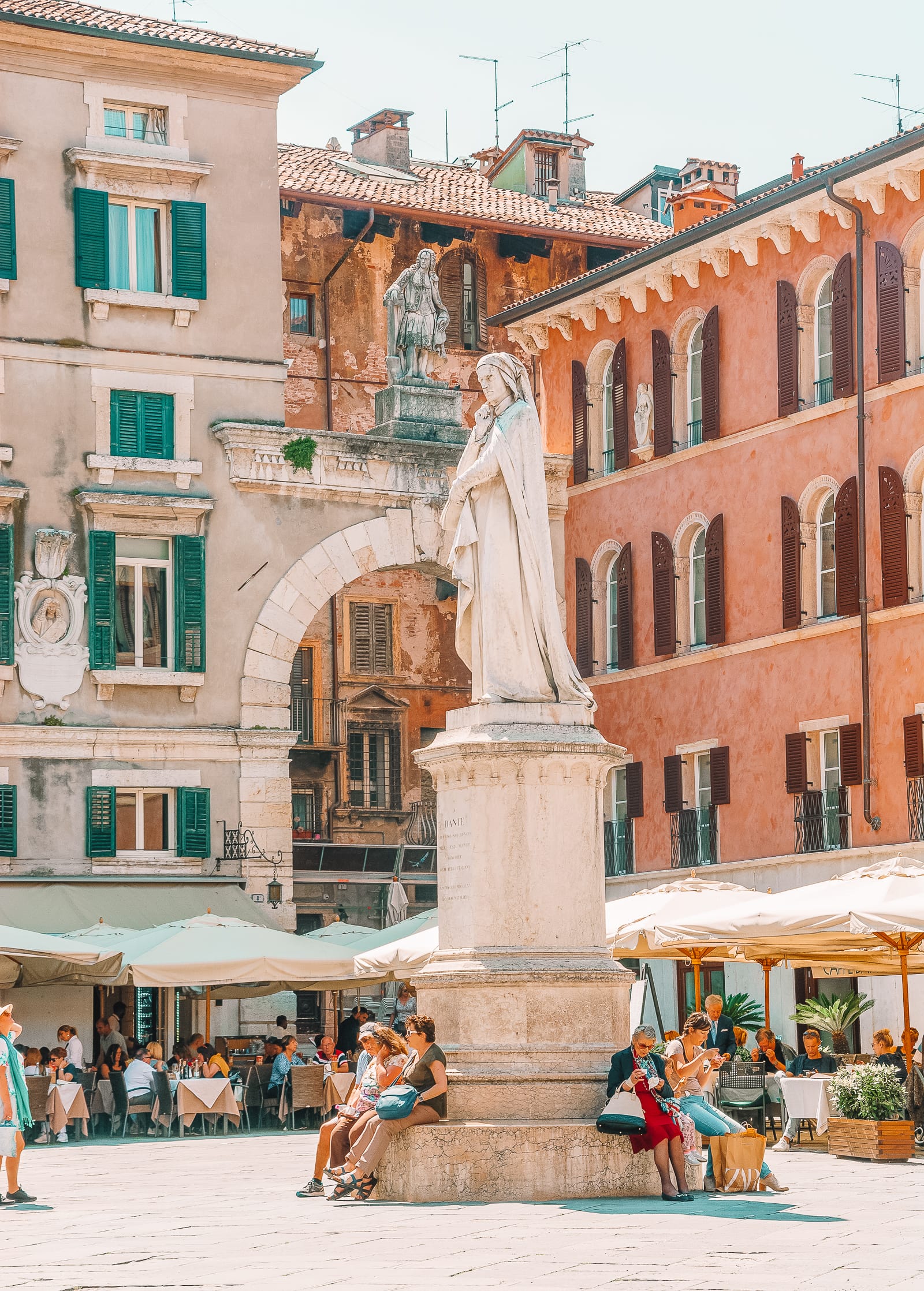 Although this piazza may not be as popular or as big as some, the atmosphere here is vibrant and the mixture of architecture from each building makes this square both beautiful and interesting.
If you want to hang out with the locals and see some interesting sites this is a great place to go in the city.
4.) Church San Zeno Maggiore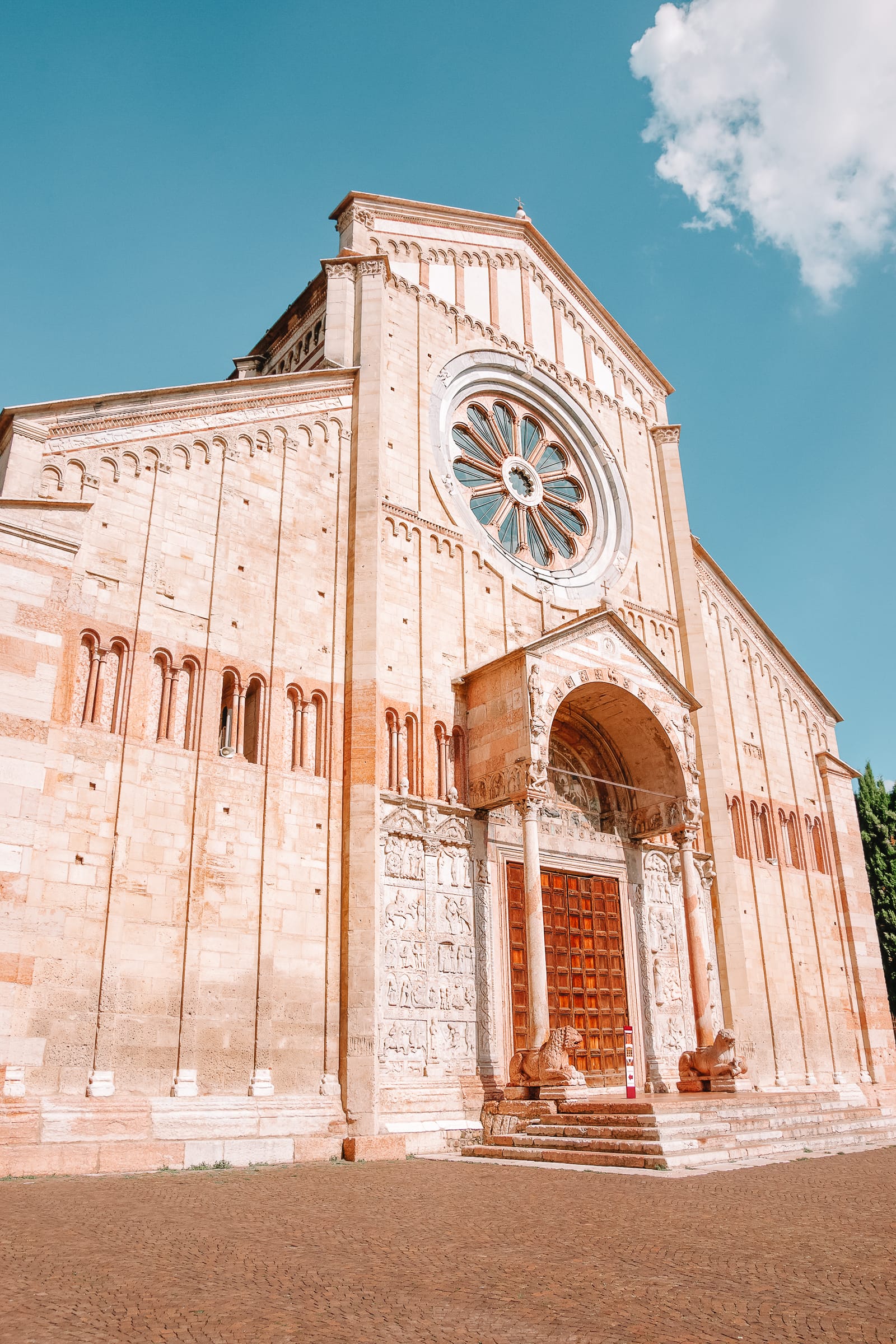 One of the best things to do in Verona if you are a lover of Romeo and Juliet is to visit the fictional church where Romeo and Juliet were married.
On the outside, the church is a simple structure with a large wooden door and circular window on the façade, however, on the inside, it is rather impressive with large stone columns and arches up to that lead up to the intricately decorated tiled ceiling.
5.) Ponte Pietra Stone Bridge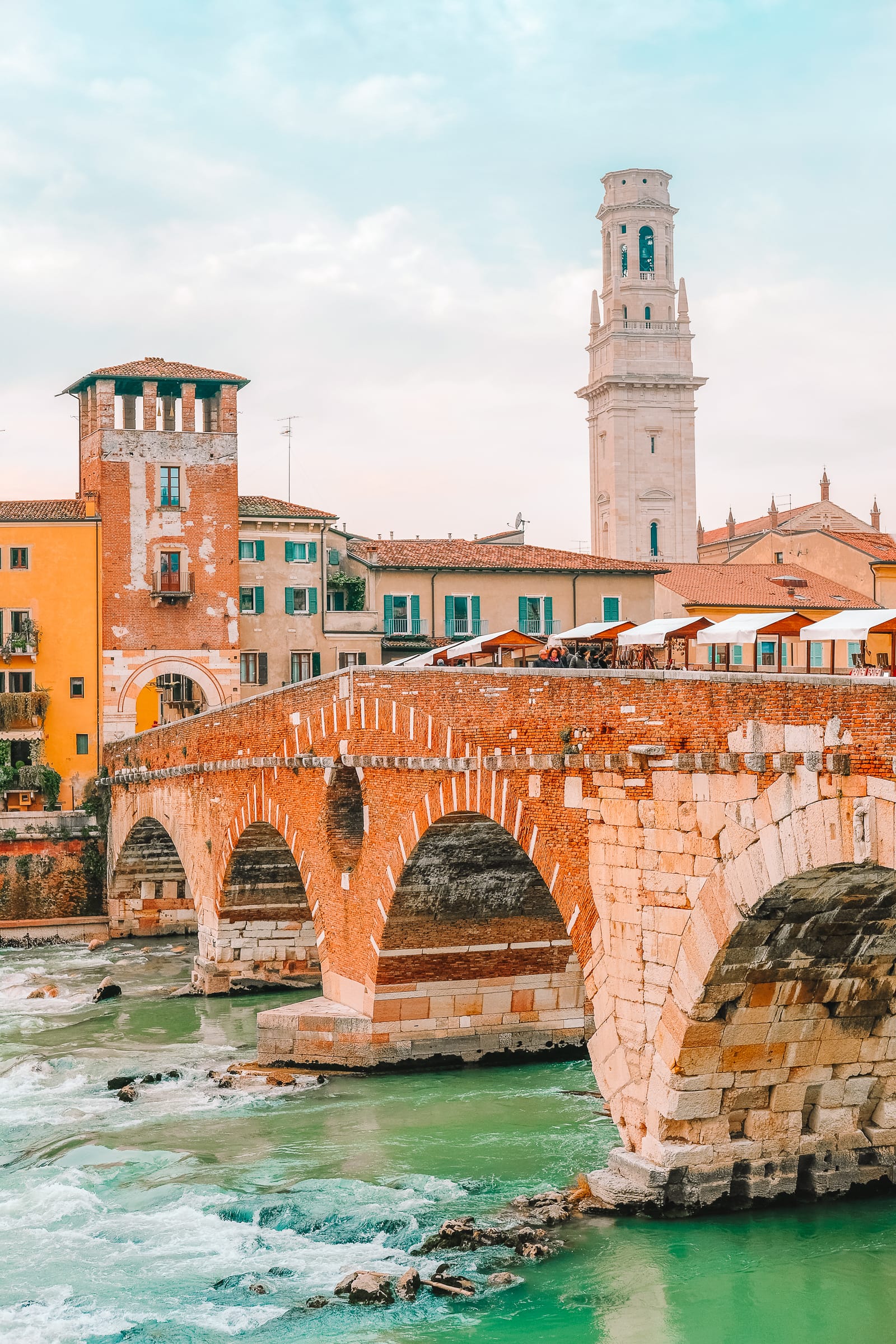 This stone bridge dates all the way back to 100 BC and is the oldest in Verona. The best part about this bridge is the stunning views you see from every turn – a great place to take a romantic stroll and take some amazing pictures.
6.) Piazza delle Erbe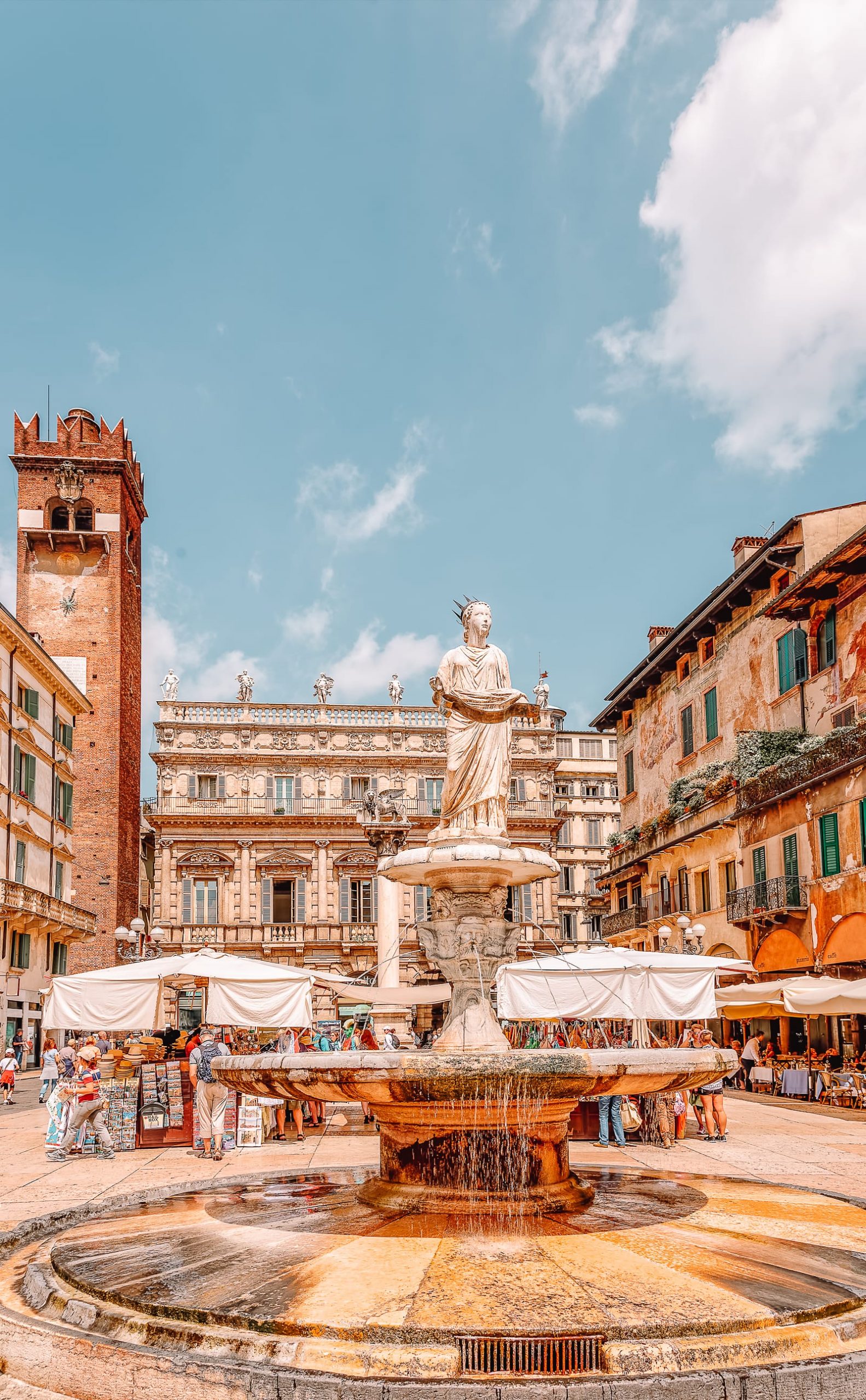 A great place to gather here, this is the oldest square in Verona and here there is a market selling herbs, clothing and souvenirs.
This square is also situated near all the areas main attractions so it's a great place to relax between sightseeing. One of the best things to do in Verona if you want to relax and enjoy the bustling atmosphere.
7.) Teatro Romano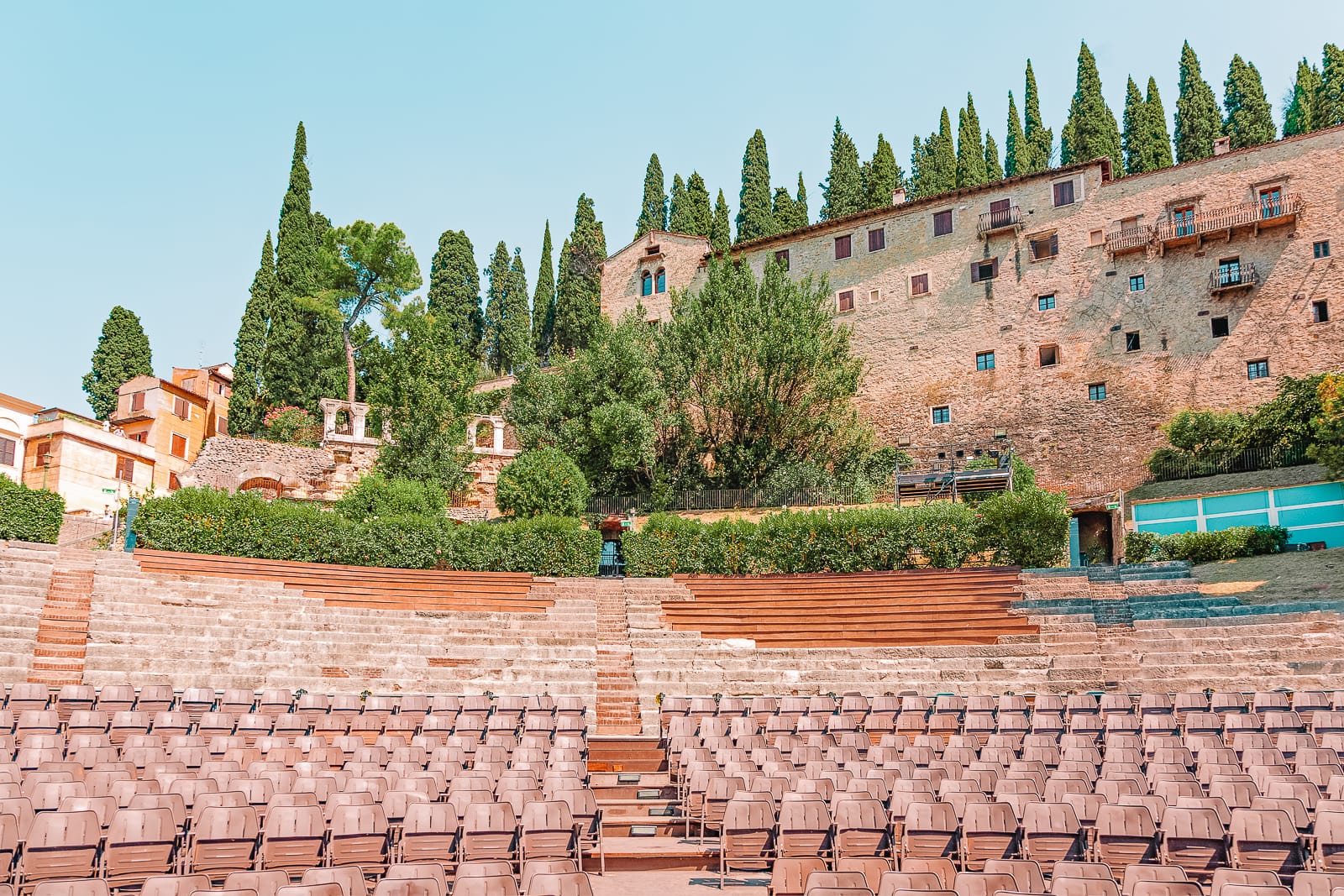 Located on the way to the Castel San Pietro, these roman ruins should not be discredited and are well worth a visit.
This roman amphitheatre is over 2000 years old and is still beautifully preserved considering how old it is. Here there is also a museum with lots of ancient artefacts and sculptures to view.
8.) Castle Vecchio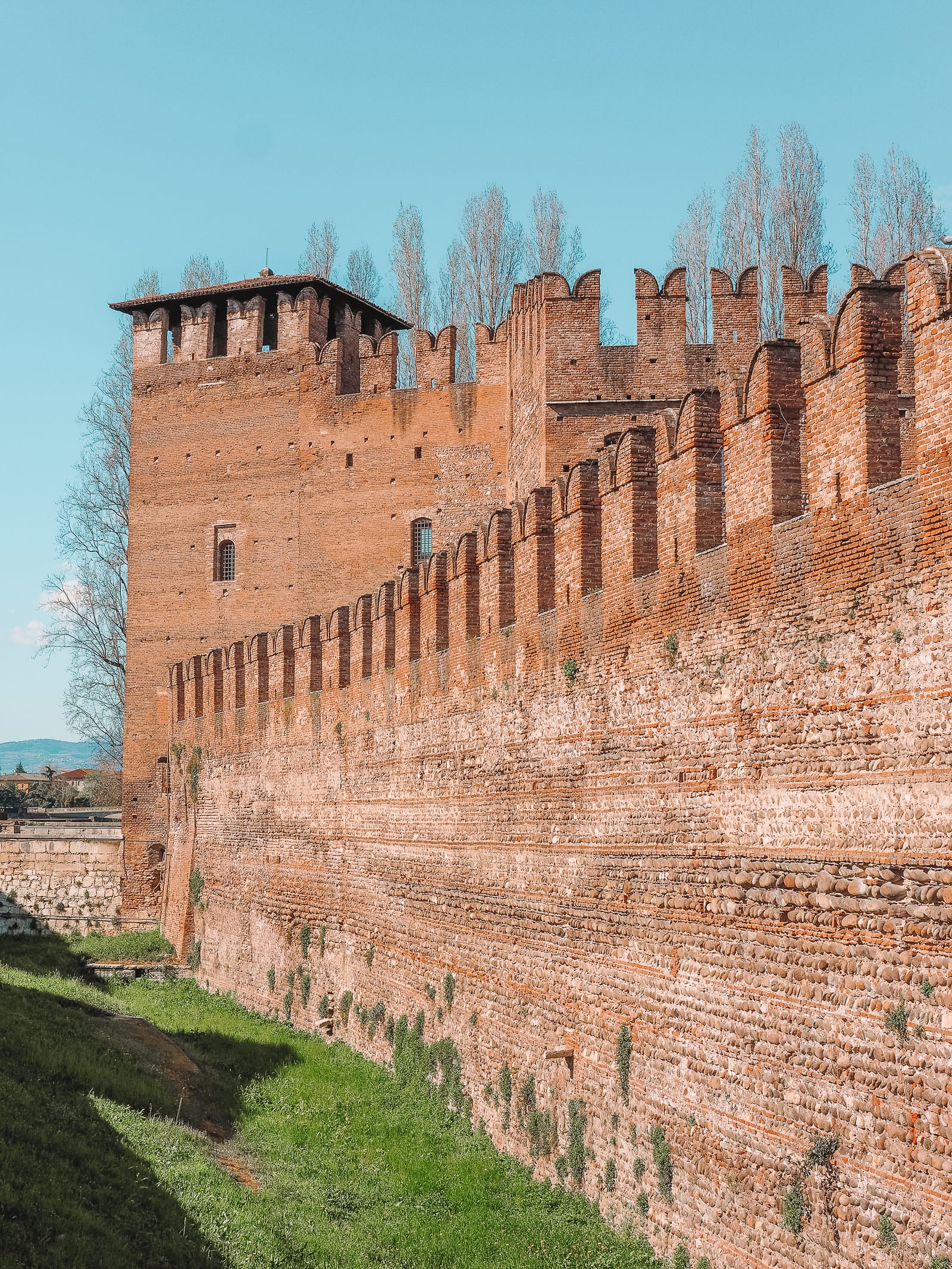 This castle can be found on the banks of the river Adige and was constructed in 1354.
On the outside, you will see quite a striking front gatehouse with two guard towers and inside there is now a museum and gallery dedicated to the castle's history.
9.) Arco dei Gavi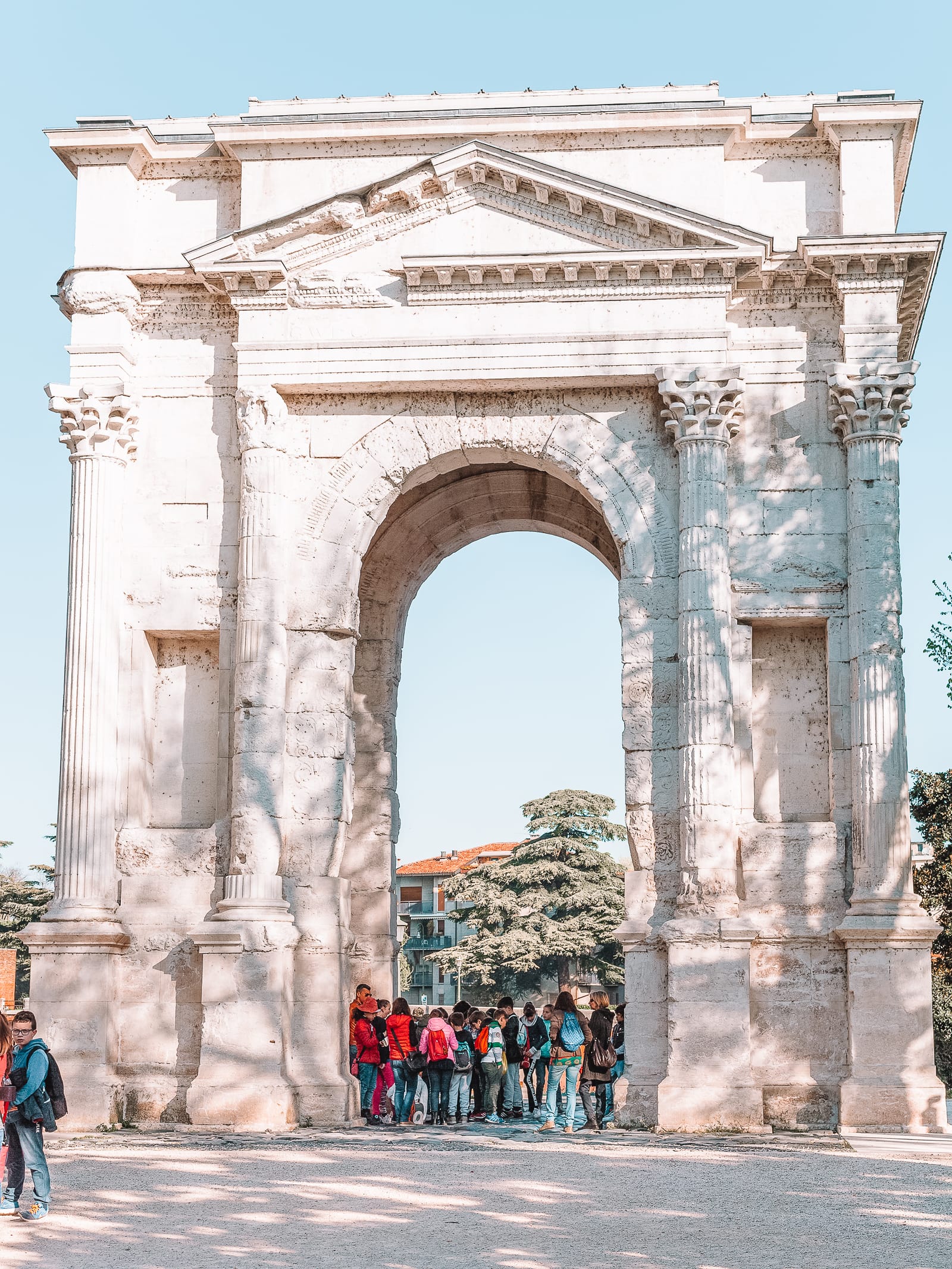 Located next to the Castle Vecchio is this stone arch which originally served as an entrance to Via Postumia and then in the middle ages, it served as a gate to the city.
The original arch was actually demolished; however, the arch was then rebuilt using the same stones as the original and is beautiful to see in the evening when it is lit up.
10.) Visit Juliet's House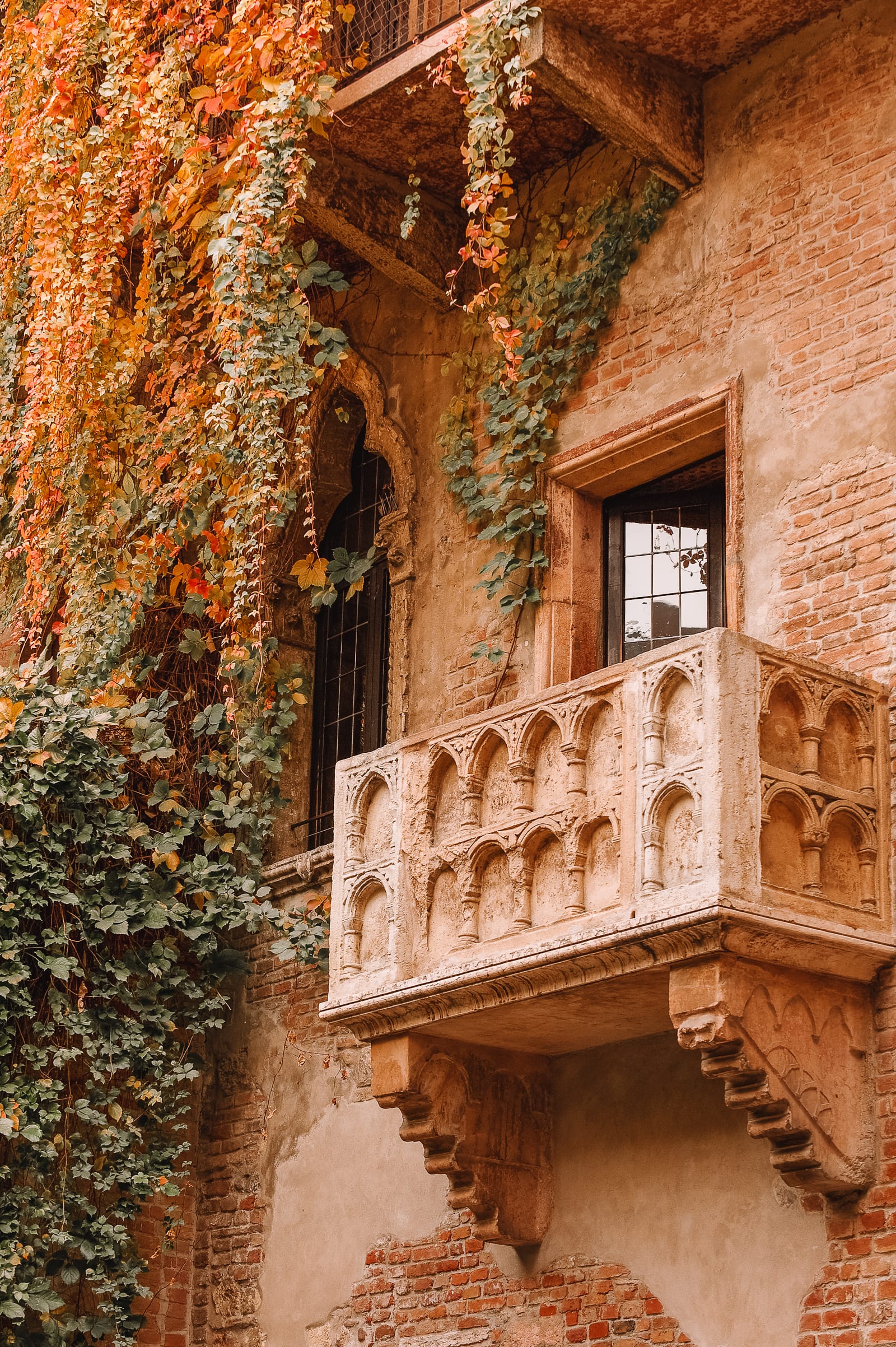 One of the most popular and best things to do in Verona is to visit the balcony of the famous scene from Romeo and Juliet when Juliet speak to Romeo from the balcony.
Juliet's house (Casa di Giulietta) can be found in the Via Cappello and you can also look inside where there are displays about the play and building itself.
11.) Verona Cathedral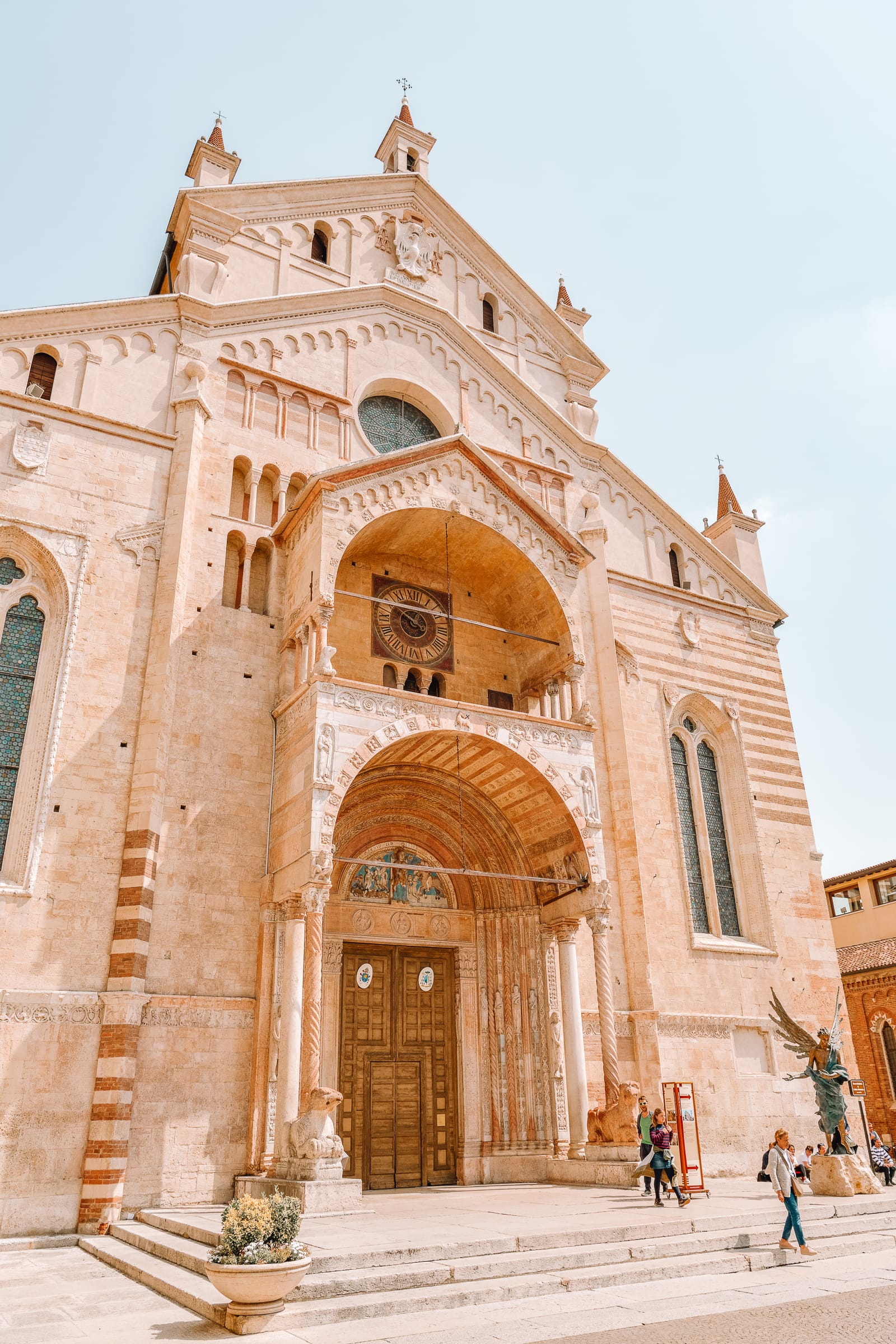 This cathedral is one of the oldest religious buildings in Verona and is lavish and highly decorative when you step inside.
The must-see here is the front altar where there is a fresco of a religious scene on the ceiling and a gold organ sits to the right of the altar.
There are more renaissance frescos around the chapel should you want to look at these.
12.) Go white water rafting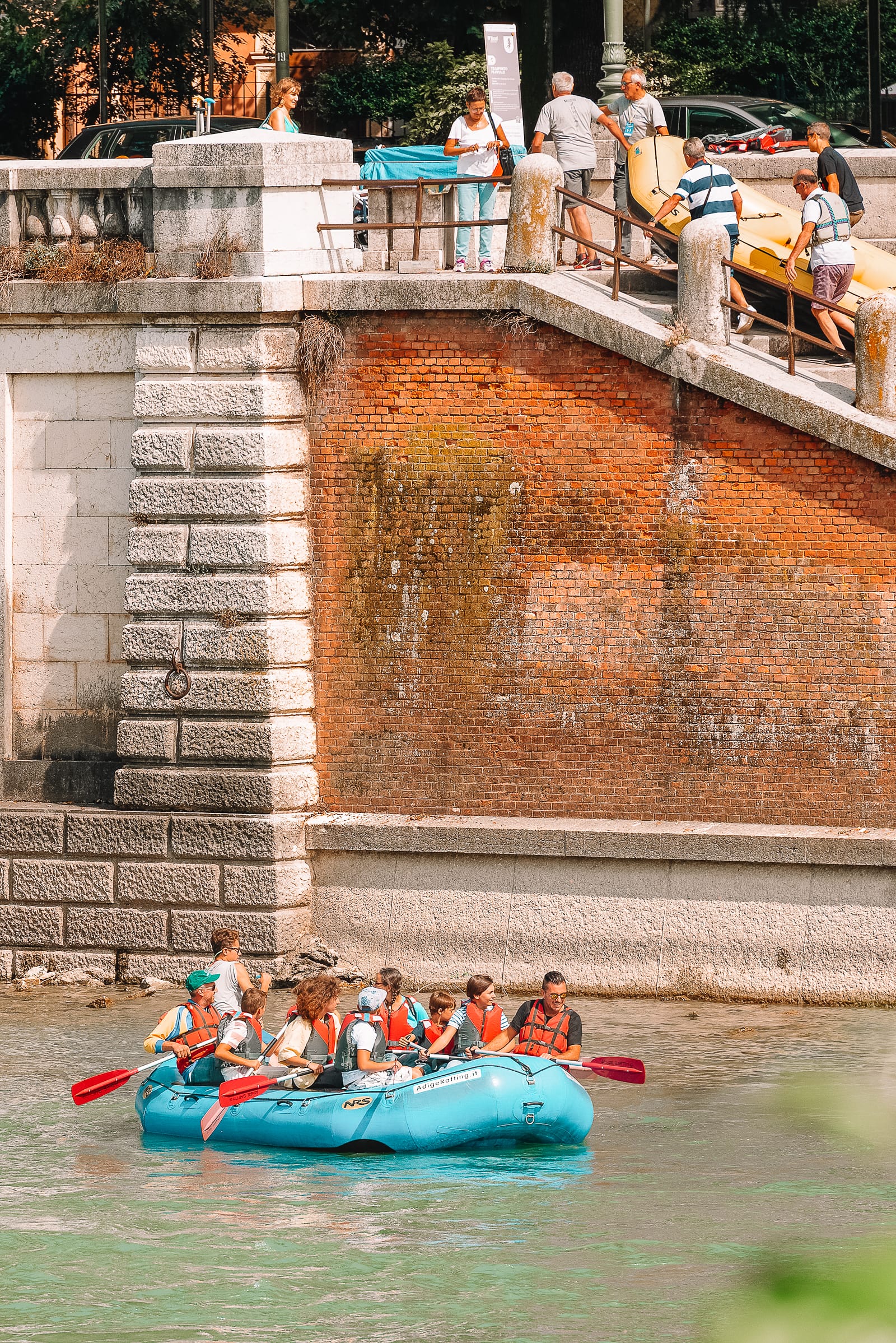 You may think this isn't possible, however when I went to the city it is actually possible to go rafting along the River Adige and is one of the best things to do in Verona.
This thrilling adventure can be booked usually between April and October usually lasts around 2 hours and 30 minutes.
13.) Castel Vecchio Bridge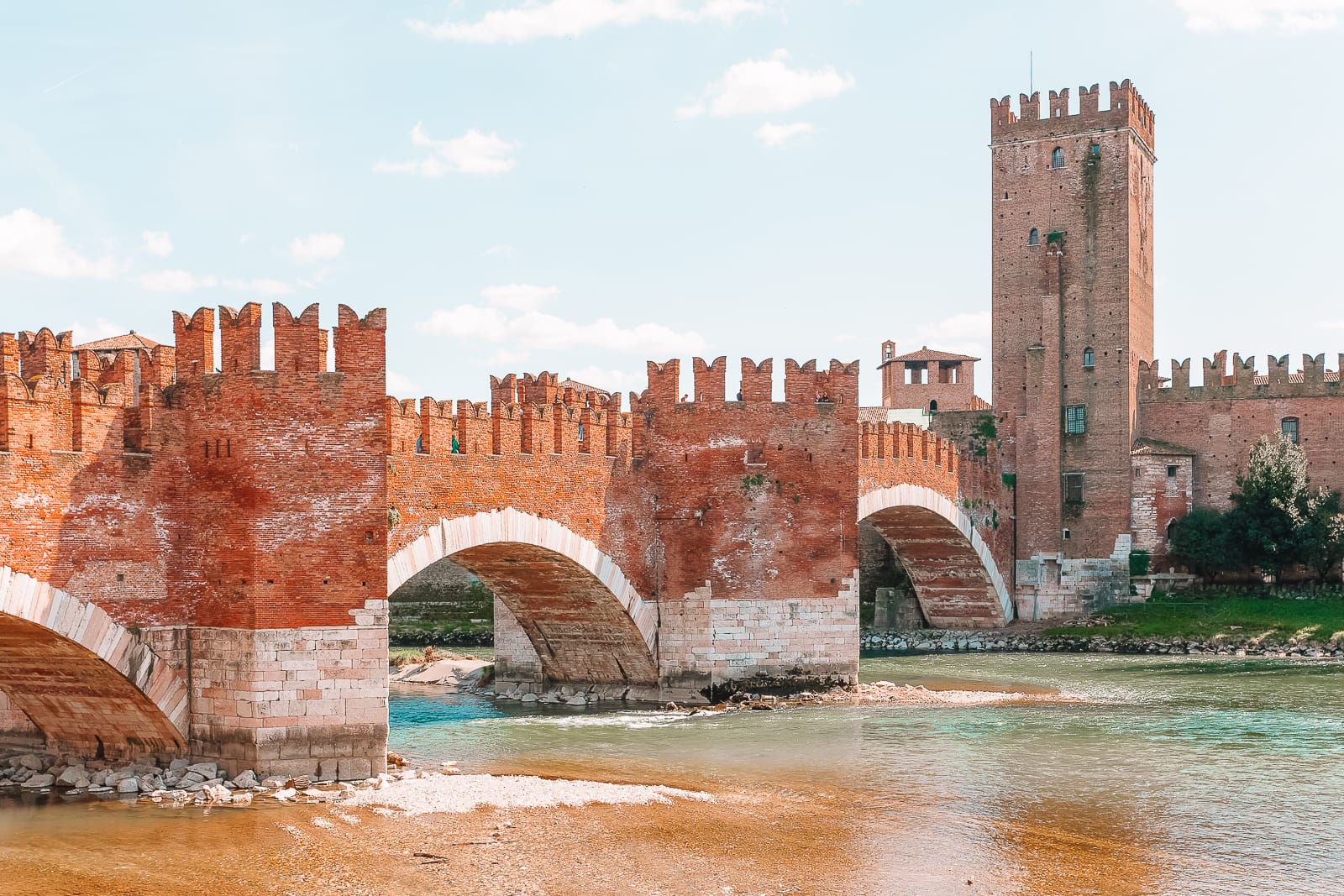 Connected to the Castle Vecchio the bridge is decorated in the same style as the walls of the castle and at the time of construction was one of the longest in the world.
Here you will also get amazing views as you walk across the bridge and be sure to take a walk along the bank to get some great pictures of the bridge from a different viewpoint.
14.) Romeo's House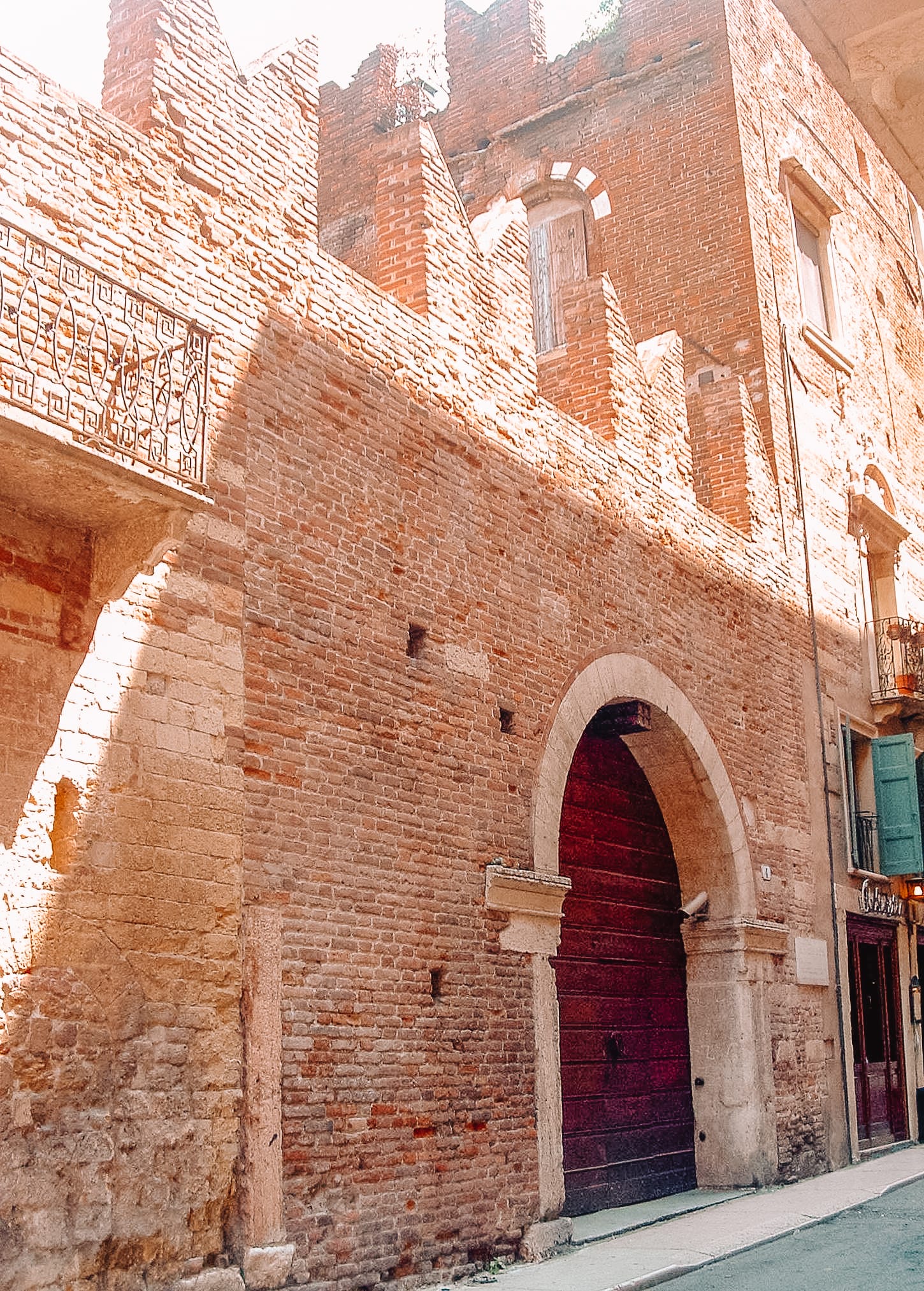 While Juliet's home is the more popular place to visit, you can also take a look at Romeos home, however, as it is now private you can only view it from the outside.
This building is only a short walk from Juliet's home and there is a now a restaurant on the ground floor should you want to stop and have a bite to eat while taking in a piece of Shakespeare history.
15.)Torre dei Lamberti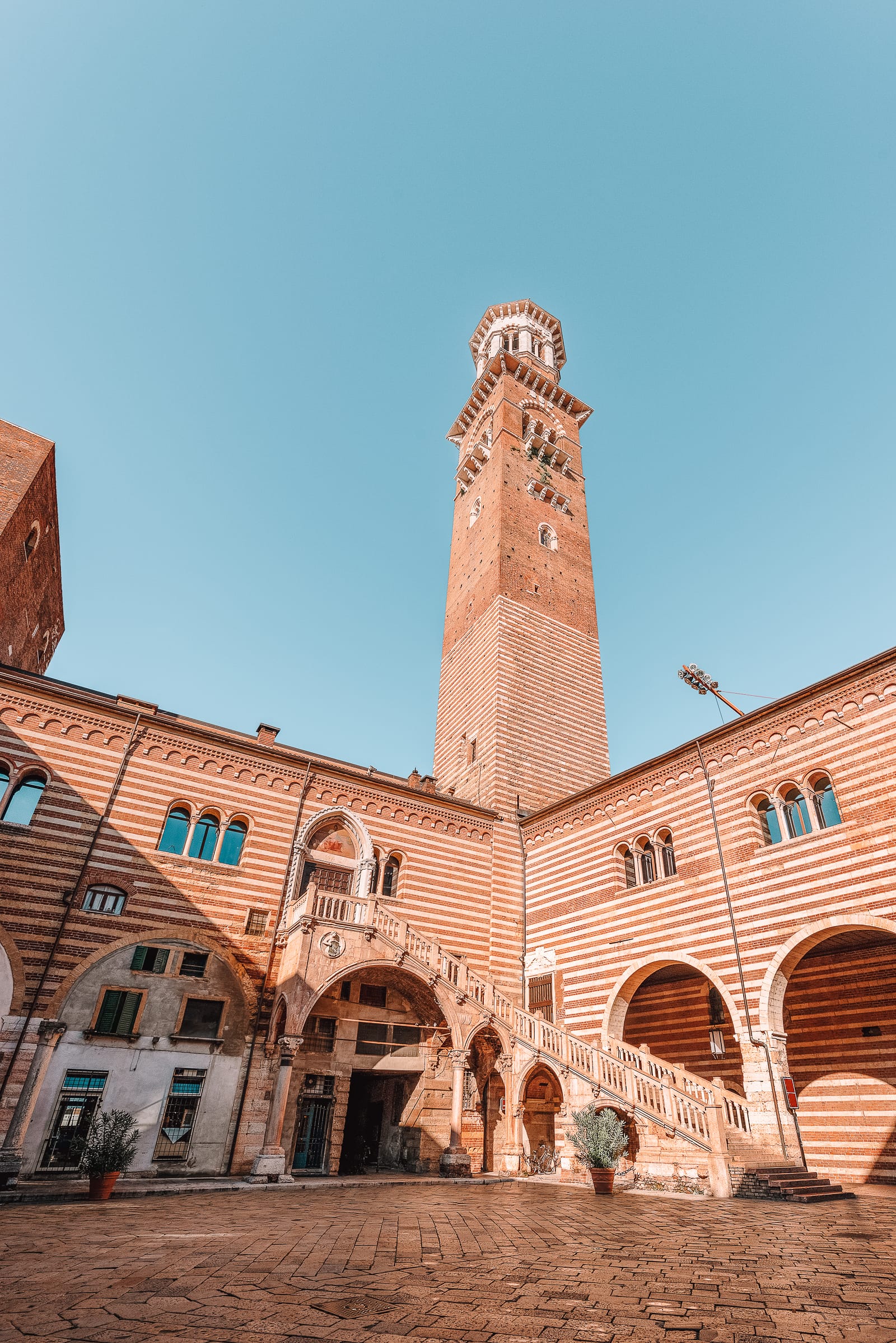 If you want to see some of the best views of the city, one of the best things to do in Verona for this is to climb to the top of this extensive tower.
There is a lift if you don't fancy climbing the stairs and from the top, there is also an observation deck.
16.) Piazza Bra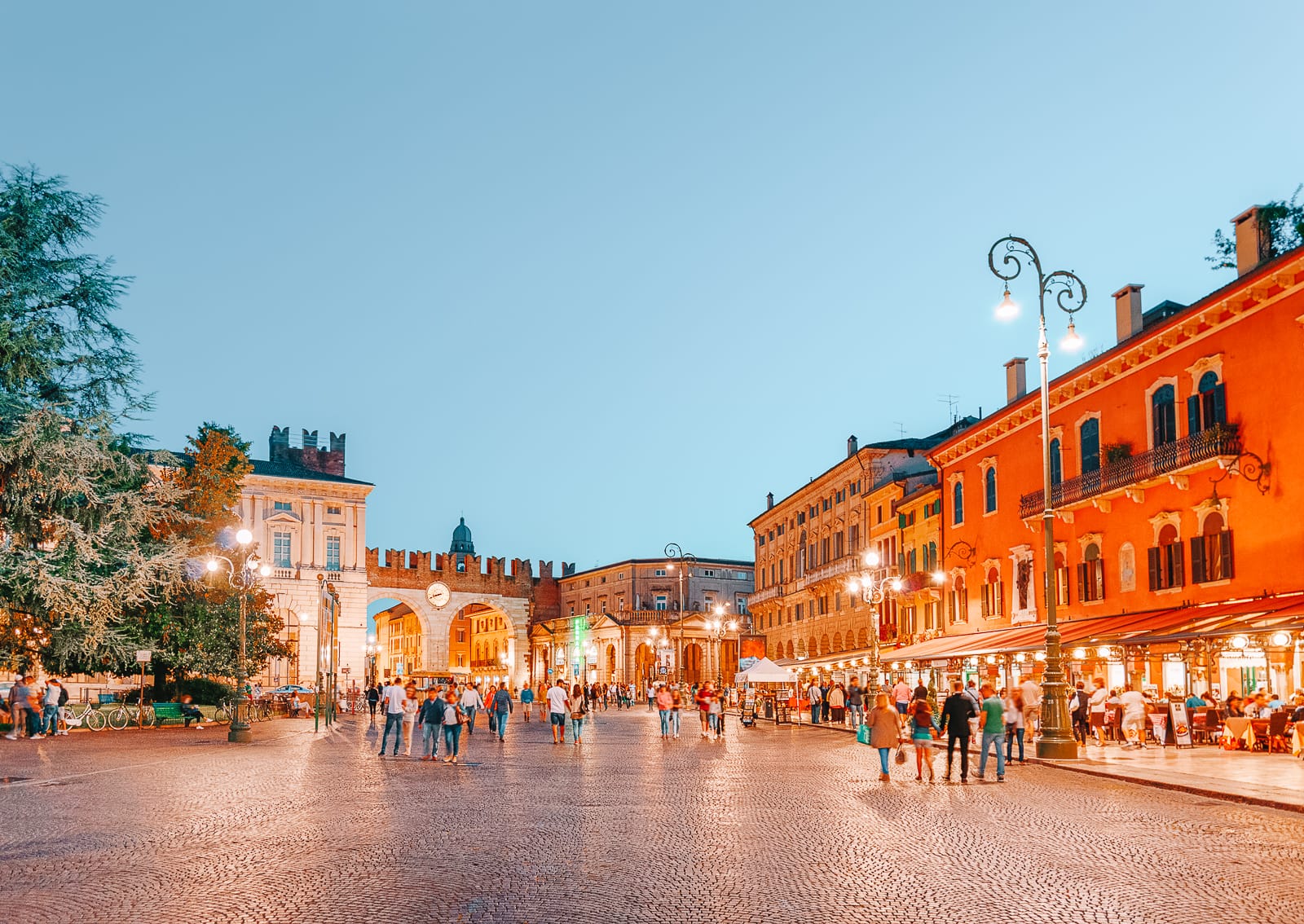 This square is the biggest and most popular in Verona and is also where the arena as well as an array of historic buildings, bars and restaurants.
If you wanted to have something to eat here Relais Empire is a beautiful place to go with nice food and a welcoming atmosphere.
17.) Scaliger Tombs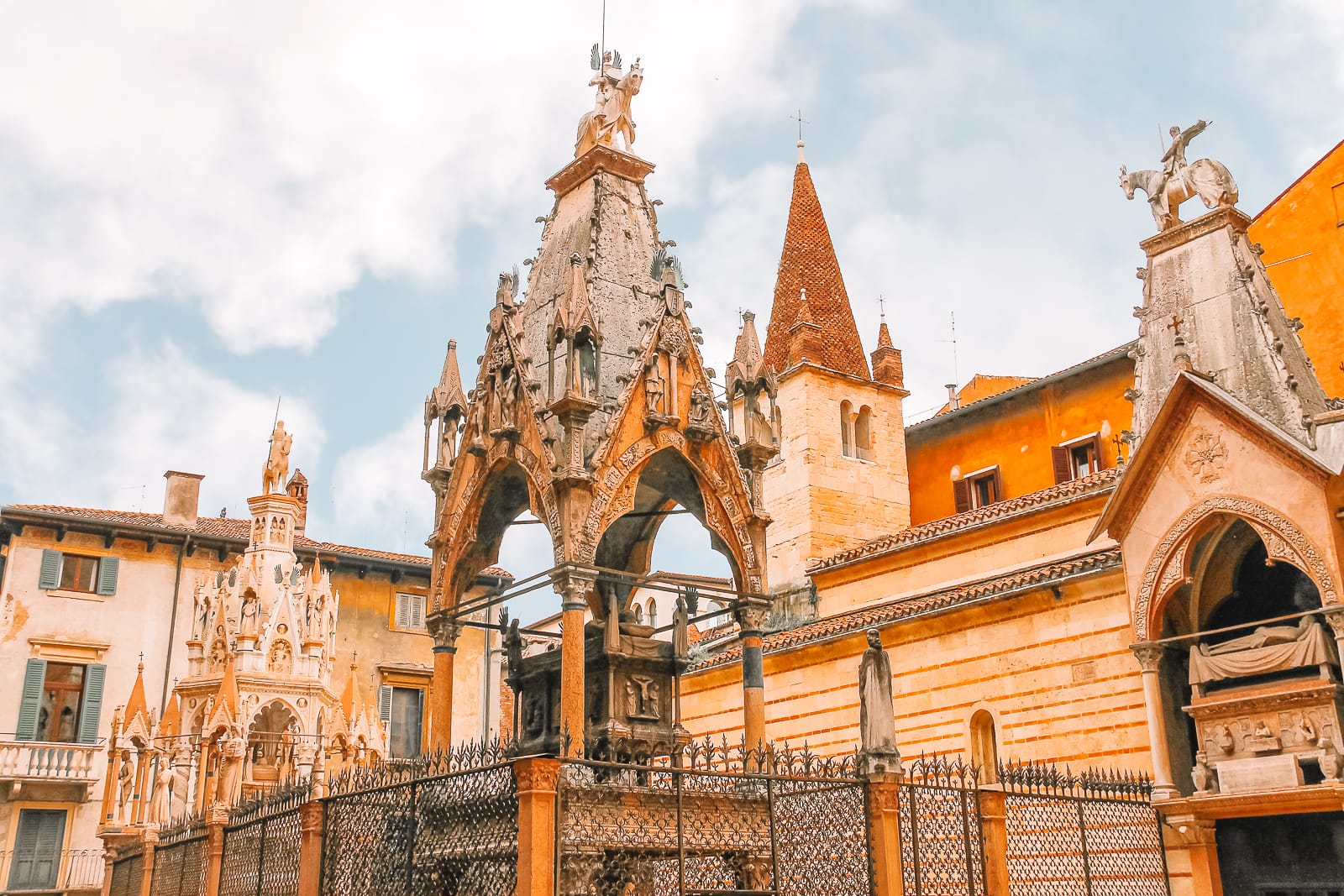 The Scaliger family ruled Verona in the 13th and 14th centuries and here you can see their intricately decorated tombs which are surrounded by ornate iron grills.
18.) Castel St Pietro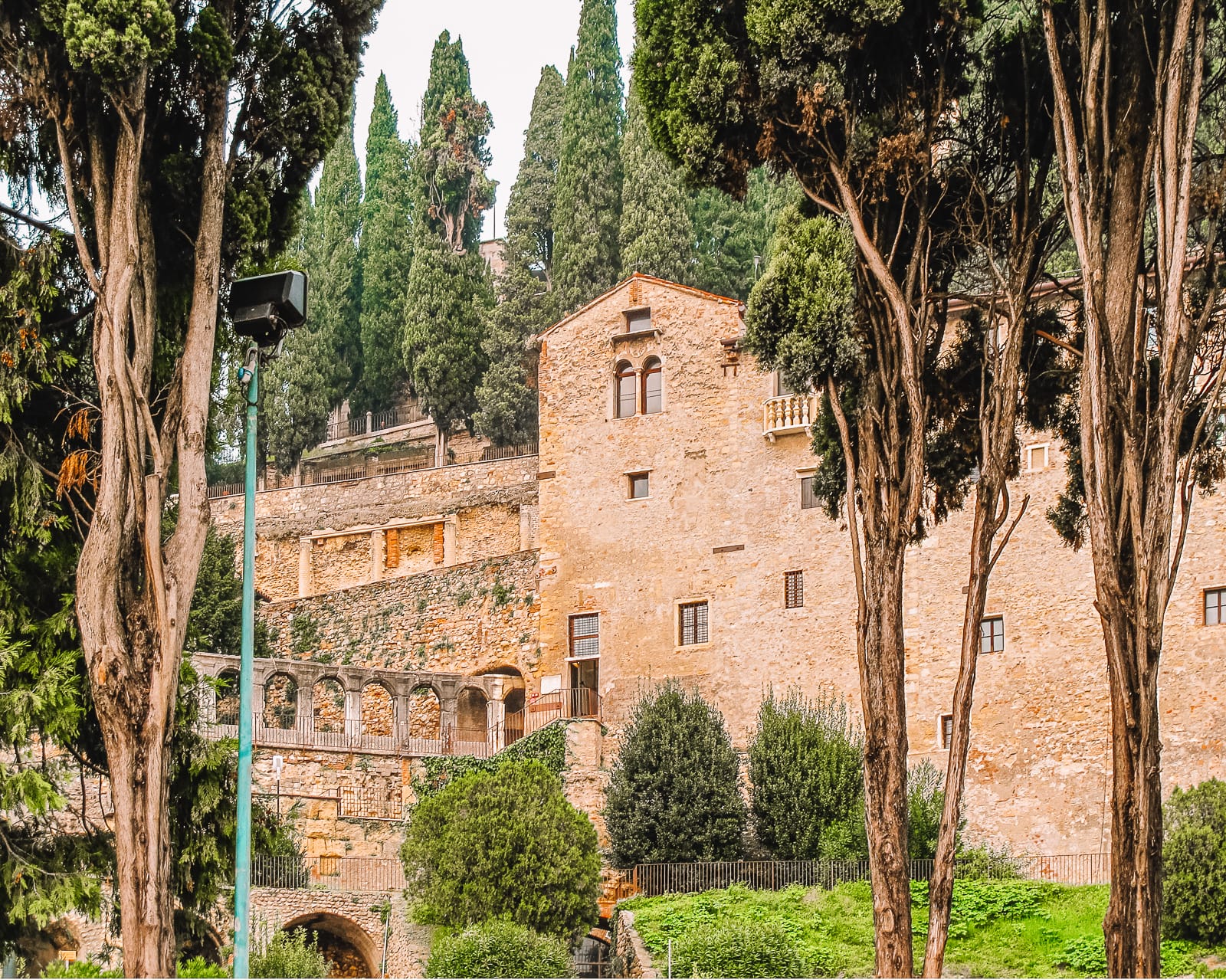 This historic castle is behind Ponte Pietro and is on a slightly elevated position giving it a strategic position back in Roman times.
The castle is not open to the public however you can walk around the grounds and admire the amazing architecture and picturesque views.
19.) Giardino Giusti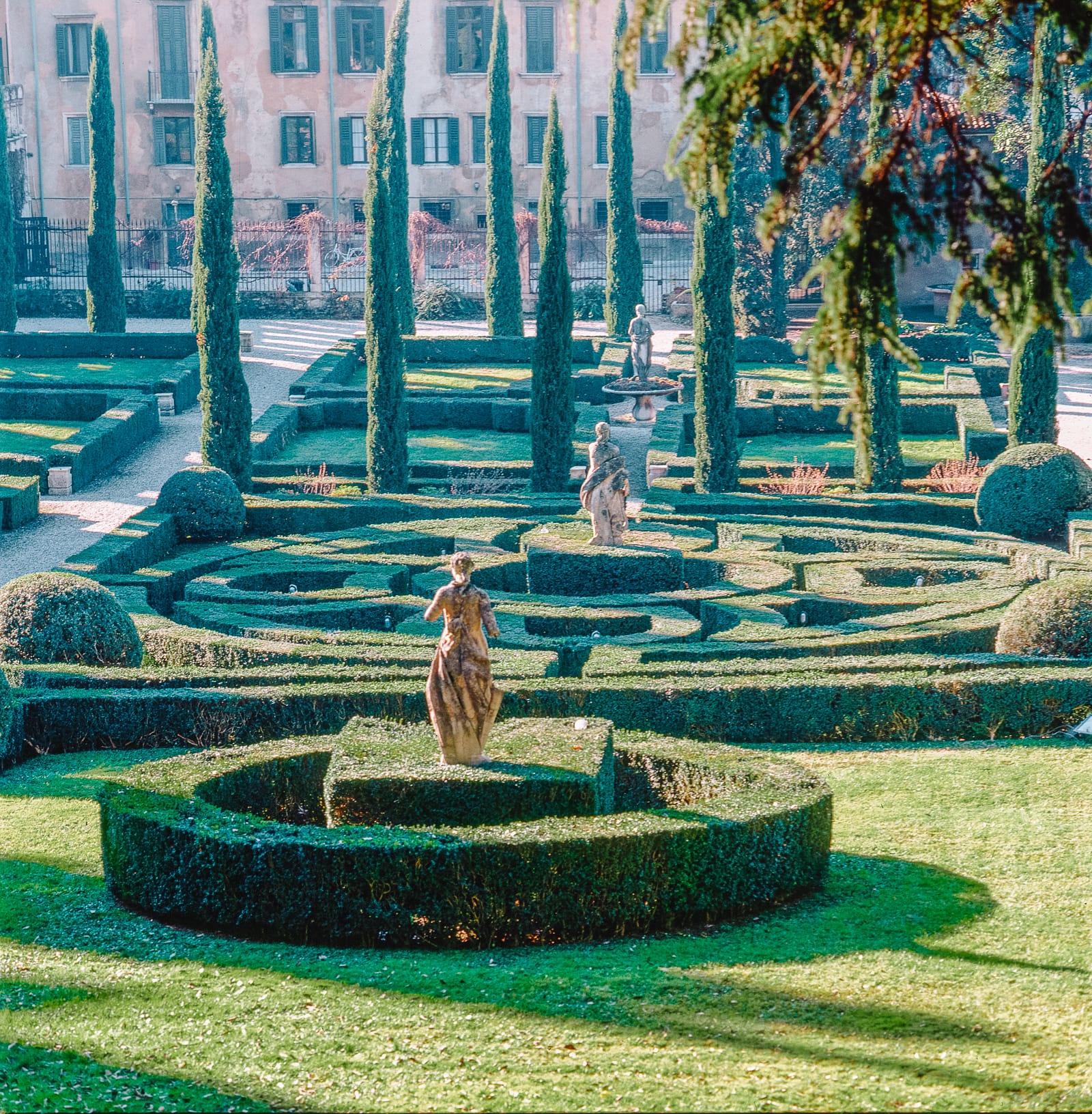 One of the best things to do in Verona if you want to relax amongst nature is to take a walk through these renaissance style gardens.
Here, there are 8 different areas for you to discover, all with their own unique fountains and design.
While you're here you can also pit your wits against the hedge maze or simply sit and admire the area where it is said that both Goethe and Mozart can include as visitors.